EARLYBIRD SPECIAL PUBLIC HOLIDAY & SPECIAL EVENT CRUISES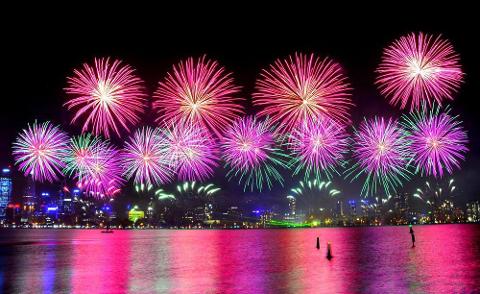 Duration : 5 Hours (approx.)
Product code : PDAHQF
TAKE ADVANTAGE OF OUR MASSIVE 20% DISCOUNT OFF OUR CRUISES ON PUBLIC HOLIDAYS OR FOR SPECIAL EVENTS!

That's 20% off our normal prices of $3000 for cruises on most public holidays and most special events, and $4000 for New Years Eve and Australia Day Firework Cruises.

PAY JUST $2400 FOR A FIVE HOUR PARTY CRUISE ON MOST PUBLIC HOLIDAYS AND SPECIAL EVENTS.
OR JUST $3200 FOR A FIVE HOUR PARTY CRUISE FOR AUSTRALIA DAY FIREWORKS OR NEW YEARS EVE!

Earlybird Special based on full compliance with the following:

* Pay $250 non-refundable deposit now to secure your booking, and the balance due 1 November.
(Or choose to pay later than 1 November - pay a $500 non-refundable deposit now and the balance of our normal cruise price 14 days before the date of your cruise.)
* Extra $100 cashback when you pay in full at the time of booking, if this date is more than 14 days before the start of your cruise.
* Extending cruise by an hour when underway is an extra $400 payable by credit card if cruise bookings allow for this.

* Start and finish times often changeable to suit your preferences.
* Price includes boat, crew, fuel, sound system
* Cruise Pickup at Sardine Jetty at Fishing Boat Harbour in Fremantle if you have less than 36 guests (carpark on your left as you cross the railway line heading towards Little Creature). Or at East St Jetty if between 36 and 45 guests, (the old ferry terminal jetty between the traffic bridges over the Swan River in East Fremantle).
* Alternative pickup and dropoff locations from can be arranged for an extra fee to cover the cost of additional fuel and wages to get the boat there and back from its pen in Fishing Boat Harbour. ($100 each way for pickups from jetties from Mosman Bay to Nedlands, and $150 each way from Raffles, Perth Port / Barrack St and South Perth.)

* As per Police requirements, guests MUST be served substantial meal during their cruise and be provided at least 2 small bottles of water per cruise by the cruise organiser.
* You will need to bring 12-15 bags of ice to chill your drinks (depending on temperature on the day and number of people onboard - higher the numbers, more bags of ice)

* BBQ Hire available (Webber Family Q) for extra $60 (includes gas and cleaning after the cruise) - you will usually need to cook your own food as crew are busy!
* Liquor pickup and loading service available if order alcohol from Dan Murphys in South Fremantle and let us know the name the order is made under (+$150)
* Either BYO catering, drinks, entertainment, music OR make your cruise an absolutely BREEZE and choose one of our KISS Cruise Upgrades:

1. EASY KISS UPGRADE ($17 per passenger) - we provide a Back Deck BBQ and 2 bottles of water per passenger, so guests eat a substantial meal during their cruise and can remain hydrated, as required by Water Police / Liquor Licensing for all river cruises. We also organise the 15 bags of ice, upgraded sound system, and pick up and load your drinks order (if ordered online from Dan Murphys South Fremantle)
2. GOURMET KISS UPGRADE ($27 per passenger) - includes EASY KISS extras plus upgrades the back deck BBQ to include scotch fillets, chicken breasts, field mushies for the vegos, gourmet salads and buns, etc, and chips and dips for the beginning of your cruise too.
3. XMAS KISS FEAST ($77 per passenger) - includes KISS extras plus a Xmas Feast with all the usual suspects (roast turkey, ham, prawns, gourmet breads and salads, condiments, and Aussie Christmas Cake (fruit pavlova) too!). And an onboard waiter / waitress if you choose too.

We can also organise adult entertainers, waitstaff and DJ with smoke machine and lasers too. Upgraded sound system available to really rock the kazbah, just let us know.

ROTTNEST CRUISES ONLY : additional Rottnest Island Authority landing fee is NOT included in the cost of your cruise. This will cost an additional $18 per passenger. Cruises to Carnac and Garden Islands do not incur this charge.