Volunteer on our Whaleshark or Humpback Whale Swimming Tours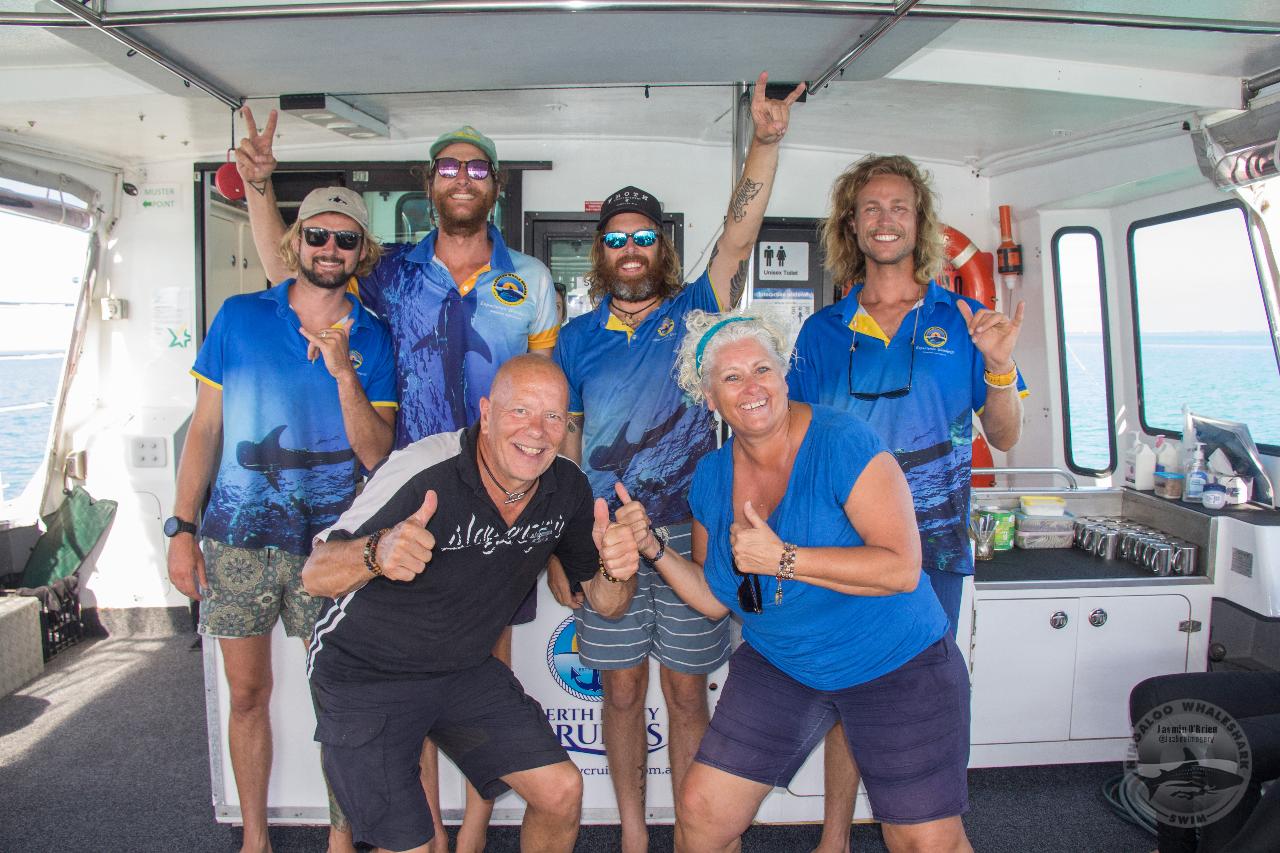 Duration: 7 Days (approx.)
Location: Exmouth, Western Australia
Product code: PFPEKQ
Our Volunteer program provides visitors from around the world the opportunity to experience working onboard a leading eco-tour on the World Heritage listed Ningaloo Reef.


Your role is simple, to help our crew deliver to our passengers one of the best tours they have ever been on!

Ningaloo Whaleshark Swim takes tours out daily into the big blue of the Ningaloo to swim with whalesharks (and manta rays and humpback whales in season too!), and dive and snorkel the Ningaloo Reef too. Backpackers, seniors, families, world travellers, groups of friends, and so many more people join us on a daily basis.

In exchange for getting to experiencing working onboard a tour vessel, our volunteers help our crew out with their work before, during and after each tour.

You are required to purchase and wear our 'Experience Wonder' T-Shirt. These are priced at $20 ($30 in our retail store). This cost will come out of your deposit when refunding to you at the end of your successful week. Shirts will be required to be worn whenever there are no in water activities happening and to/from the boat each day.

You will be leaving town around 6:45am and returning around 5pm each day, with plenty of breaks during the day to take in the Reef too. Lunch, morning and afternoon teas are included each day. You'll be cleaning, helping set up, helping with the catering, cleaning the gear and vessel at the end of the day, and get the boat sorted ready for the next day etc.
Whilst tours vary day to day due to Mother Nature, we will be putting you in to swim with a whaleshark if any customer spaces become available. You may even be able to experience some other wonders of the Ningaloo:
- swimming with any manta rays we encounter
- being surrounded many days by humpback whales as they migrate past Exmouth, with their amazing surface displays including full breaches, tail slaps, peduncle slaps, breaches and so much more.
- a scuba dive or Try scuba dive with an instructor on the Ningaloo Reef as the opportunity arises
- snorkelling the reef daily, and
- a free joy flight at the end of your Volunteer period in our spotter plane to see the Reef from the air. This is not always guaranteed. Perfect conditions and pilot approval required.
IMPORTANT : WE CANNOT GUARANTEE YOU A SWIM WITH A WHALE OR WHALESHARK. This is totally dependent on whether a customer space becomes available. There must be less than 20 people booked on the tour for this to happen.
All that is required from you is:
- a $500 deposit to secure your preferred dates.
Volunteers leaving before the end of their week's work stuff the crew around pretty badly, so the deposit is there to ensure Volunteers don't just jump onboard, come out and swim with a whaleshark for free, and then don't turn up to help out the next day.
The $500 is fully refunded to you unless:
a) you don't turn up on the agreed date to start your Volunteer position OR
b) you don't turn up to work each day during your Volunteering period looking clean, neat and professional and with a great attitude ready to work OR
c) we need to ask you to leave due to poor attitude or unsafe behaviours, after we have raised issues of concern with you on at least two previous occasions.
If your deposit is not refunded, we will be donating this sum of money to Ecocean, one of the world's leading whaleshark research organisations.

- you'll also need to organise your own accommodation in town during your Volunteer week (YHA Backpackers is the closest to our booking office.)
- you must be over the age of 18 to Volunteer unless you have received our approval beforehand.
- you MUST speak English well enough to be easily understood by guests and staff, and be able to understand instructions from staff the first time.
- please forward through a recent photo of yourself and brief summary of your work and life experience to date (eg a one or two page CV or resume) to give us a better idea of where you are coming from and how to make the Volunteer program work best for you. Please include any social media accounts you may have.

The nasty bit. We reserve the right to end any Volunteer period early if a Volunteer is viewed by the Skipper, Trip Leader or Owner as a significant risk to the safety of the passengers and crew onboard, or the business's brand and reputation. We reserve the right to do this without any further explanation to the Volunteer but do commit to NEVER doing this without very good reason to do so.

Any questions, please contact us on (08) 9949 4777