Whaleshark + Wonder Tour (for tour dates to 31st July annually)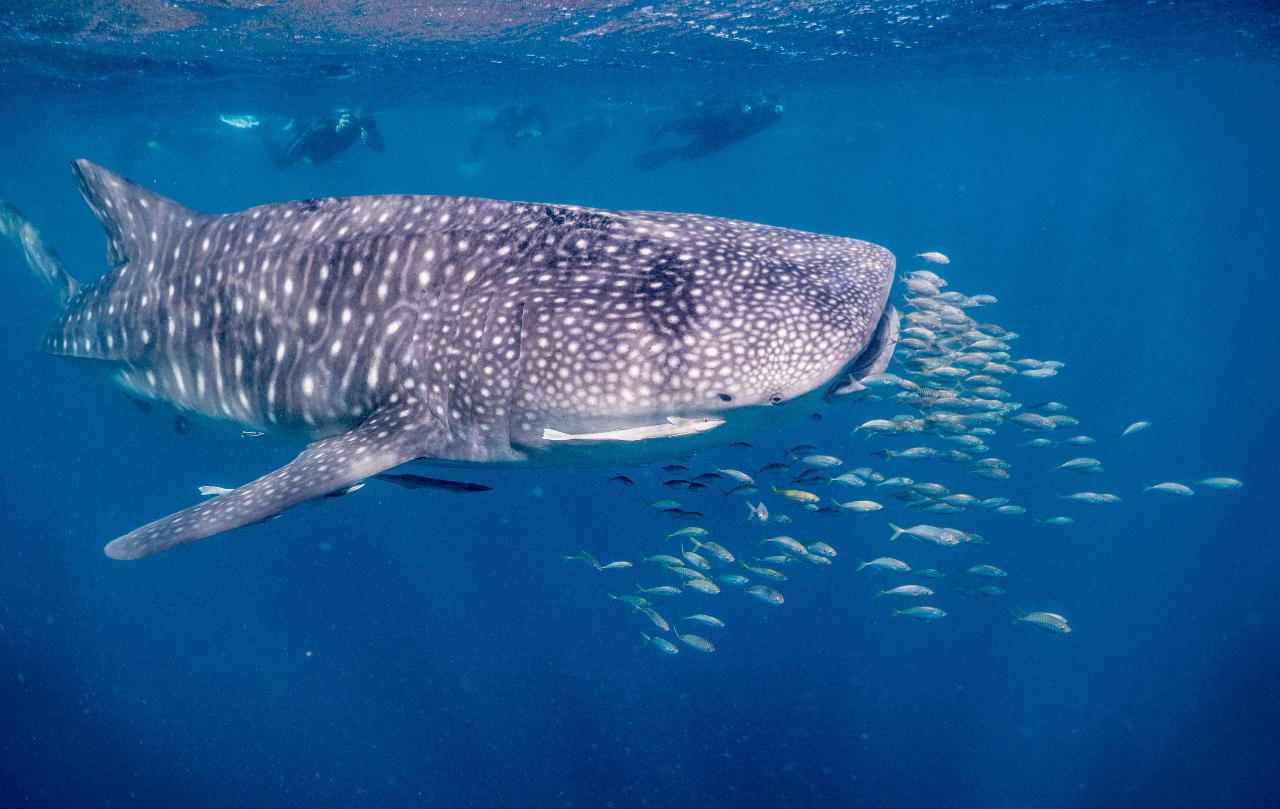 Duration: 10 Hours (approx.)
Location: Exmouth, WA
Product code: PPXG9H
Join Ningaloo Whaleshark Swim's team of committed, fun-loving and friendly professionals for a day out on the Ningaloo Reef and experience wonder for yourself. Marvel at the size, grace and beauty of the biggest fish (and biggest shark) in the world as a whaleshark cruises alongside you in the pristine waters of the Ningaloo Marine Park. And there is so much out there to enjoy too!

Our tour includes two free snorkels on the Ningaloo Reef for all onboard (think amazing hard and soft corals, truly diverse fascinating sealife surrounding you etc.), and also free snorkeling with manta rays we encounter during our tour as the opportunity arises. (Unlike operators in Coral Bay, we will never charge for this.) Each swimmer gets to select the best photo taken by our onboard photographer to take away with you for free as well!
We are also the only whaleshark tour company to offer SCUBA dives on the Ningaloo Reef to current certified divers during your tour too. This is one of the cheapest dives in Australia ($75) and offers a simple, easy fun-dive on the coral gardens of the inner Ningaloo Reef (5-7m of water) Stunning corals and amazingly diverse sealife await (from huge shovel nosed rays to tiny nudibranches) - its perfect as a warmup if you haven't dived for a while or just wanting to take the opportunity to get some bubbles into your bloodstream!;-)
And having our own spotter plane means on average you will get to swim with a whaleshark for much longer. Guests on whaleshark tours that share a spotter plane between them regularly have to wait in a line of boats for their turn to swim with a whaleshark, and then have to get out to let customers on the next boat have a go. NOT with us! Our guests regularly get to swim with a whaleshark for twice as long as the industry average, as demonstrated time and time again by the Monthly Reports prepared by the government department (Parks and Wildlife) managing the industry.