Spring Whaleshark Whale and Manta Ray Wonder Tour (for tour dates 1st October on)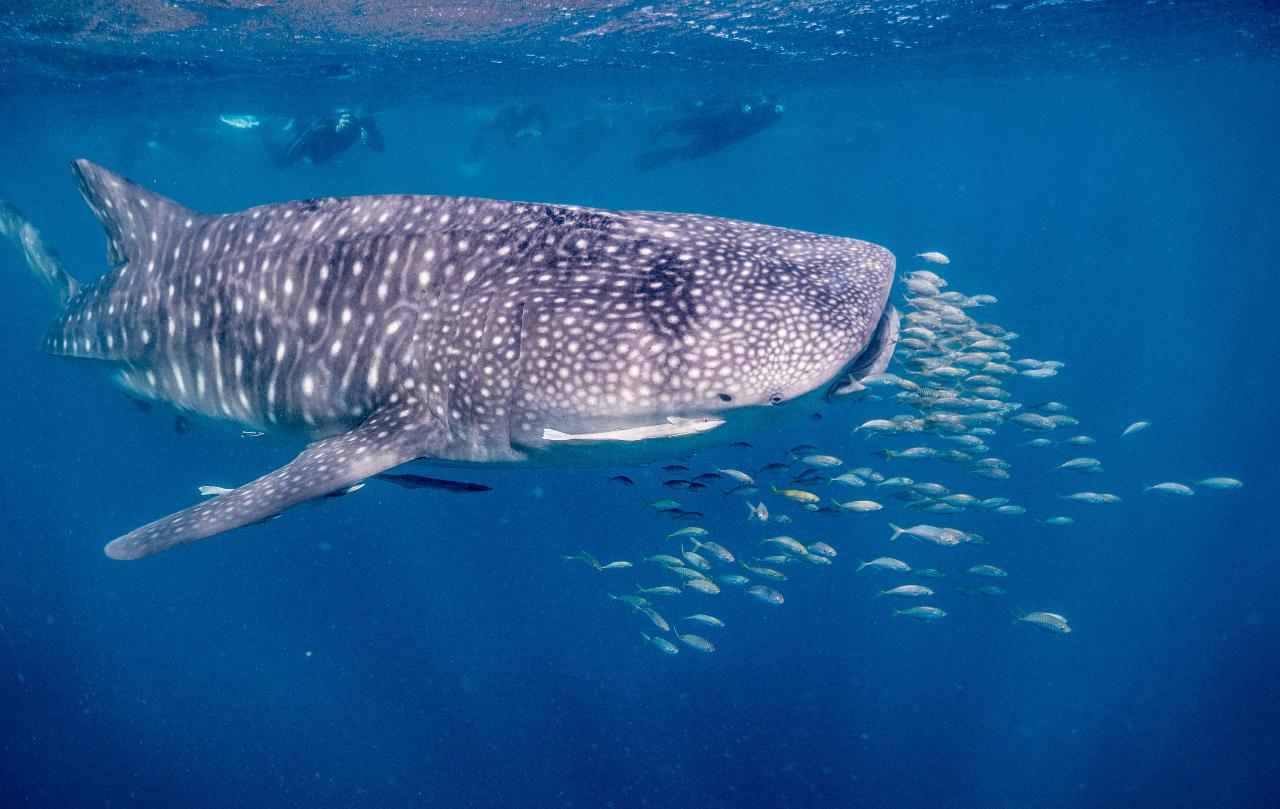 Duration: 10 Hours (approx.)
Location: Exmouth, WA
Product code: PGQKGP
This is a full-day Ningaloo EcoTour not a cheap half-day version with reduced plane time, reduced wildlife interactions etc!
Join Ningaloo Whaleshark Swim's team of committed, fun-loving and friendly professionals for a day out on the Ningaloo Reef & experience wonder for yourself. Marvel at the size, grace and beauty of the biggest shark, and one of the biggest whales in the world - the humpback whale - and the eagle of the sea, the manta ray, as they cruise alongside you through the pristine waters of the Ningaloo Marine Park.
And when the opportunity arises, you will get to swim with these amazing creatures too. (Extra charges apply for swims with whalesharks or whales, you can either secure your place beforehand or make the decision to upgrade whilst on tour if there are still spaces available - our License limits us to a maximum of 20 swimmers on a tour.)
There is so much more out there to enjoy and share with you too! Our tour includes two free snorkels on the Ningaloo Reef for all onboard (corals of all shapes, sizes and colours, and truly diverse sealife both big and small, from nudibranches (the closest things we think to aliens on the Earth!;-) to dugongs, rays, dolphins, turtles and so much more.
Each swimmer gets to select the best photo taken by our onboard photographer to take away with you for free.

Having our own spotter plane absolutely maximises the chance of you swimming with any whalesharks, whales or manta rays out cruising the Reef during your tour. Our spotter plane is up much much longer than any other cruise too - basically this is the tour for you if you are serious about swimming with whalesharks or whales.
We are also the only whaleshark and whale tour company to offer SCUBA dives on the Ningaloo Reef during your tour too - its one of the cheapest dives in Australia ($75) and offers a simple, easy fun-dive on the coral gardens of the inner Ningaloo Reef (5-7m of water) Stunning corals and amazingly diverse sealife await - its perfect as a warmup if you haven't dived for a while, are going to be diving more whilst in the region, or just wanting to take the opportunity to get some bubbles into your bloodstream!;-)


WHEN DO WHALESHARKS LEAVE THE NINGALOO?

The simple answer is very occasionally in late July, usually sometime during August or September, and if we are very lucky, in October. (Whalesharks left in October in 2016 and 2017 and 2018, and they were even here in November of 2020, so we are hopeful they may come and go through to the end of the 2021 season too - we just don't know.)
The good news is that the latest 2017 research has confirmed that a significant minority of whalesharks (20%) stay around the Ningaloo for months after most of the others have left - and indeed that there may be a permanent Ningaloo whaleshark population. These are the whalesharks our spotter plane is searching for after the majority have left in hunt of more food elsewhere.)